latest news

Software / Application Details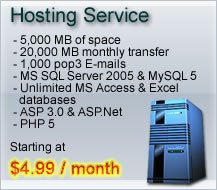 Website: www.marketplace.com.do
Marketplace.com.do is an internet webpage programmed in the ASP language, handled by means of a database,reason why its content is 100% dynamic, from the texts to the categories that are shown.

The users create an account, where they can add their ads.

The administration area is very complete, you can add, modify and delete all the products, as well as see all the details in each order, cars and houses added recentlyh, as well as seeing the complete list. All of this with an account assigned by the administrator of the webpage(the number of accounts is unlimited).